Bahaullah, the Baha'i faith's Manifestation of God, was exiled for his teaching on the unity of humanity. His spiraling course intersected geographies of power and spirit and turned the misery of Akka into a flowering of humanity. Baha'i symbol of faith is a 9 pointed star representing the 9th world religion, one of this time. A unity faith the Baha'i symbol of the 9 points star describes a unity field found in the Earth and Sun's spheres; gravity, sound, DNA, and the eyes you read this radiance of creation; seeding our planet's field with His field of baha–glory.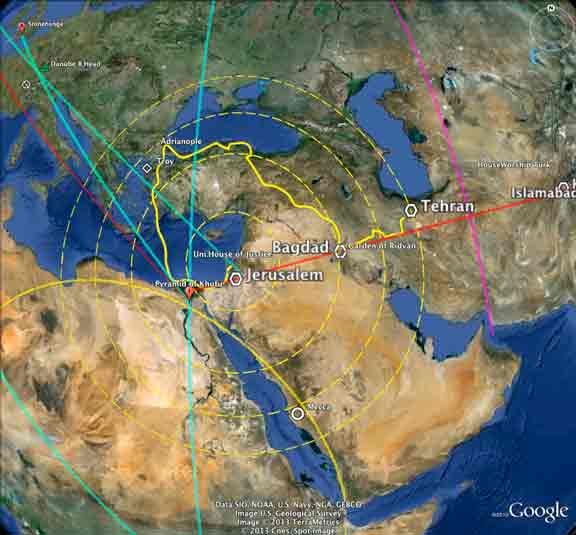 Overlaying 'EarthRings' on the points of the Manifestation of the Baha'i Faith one can see how
its places of revelation match thes rings of creation/ consiciousness/ gravity..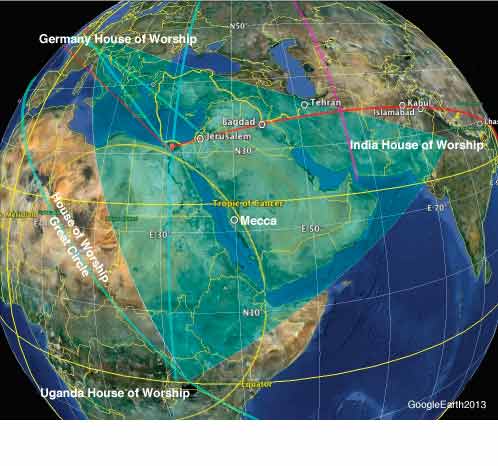 The equilateral triangle drawn from three Baha'i House of Worships frames its center point, Mecca.
Baha'i House of Worship in Uganda, Australia, Samoa, and the United States create an Earth encompassing ring of Worship.